The Rules of Cash4Life
Playing Cash4Life is very easy and extremely fun. You will have to choose your five main numbers from 1 to 60, and then your Cash Ball number, which must be from 1 to 4. Whether you want to choose your numbers at random or use some that have a specific significance to you is entirely up to you, but your main goal is to guess all six of those winning numbers because this will bring you $1,000 a day, every day for the rest of your life.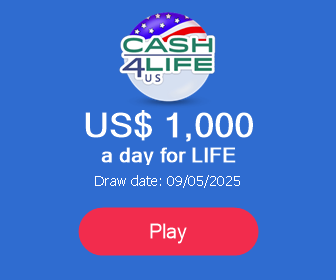 How would you like to have $1,000 wired to your bank account every single time you wake up in the morning? What would you do with your daily thousand? Would you spend it on a road trip or save up for the week to go on a luxury cruise in the weekend? With $1,000 a day, every single day of the rest of your life, the sky's the limit because you can do everything you've ever wanted.
The Cash4Life First Prize vs. Traditional Lottery Jackpots
The vast majority of the world's lotteries offer a fabulous amount of money as their first prize. Winners have two prize collection options that include a long-term payment of the entire amount or a lump payment of a smaller amount of the jackpot.
As you can imagine, almost all lottery winners choose the lump payment, all in the hopes of becoming instant millionaires. While this may be the ultimate American dream, it can turn into a nightmare for those who are not ready to handle such an enormous fortune.
In fact, this is what makes Cash4Life first prize the best lottery jackpot out there. With $1,000 in your pocket every day, you have the resources to make all of your dreams come true, but you get much more time to come to terms with your new financial status, as well as the opportunities and responsibilities that come with it.
You will never have to worry about money ever again in your life, and you are in no danger of wasting away your fortune. You can make all the impulsive purchases you want because there will always be another $1,000 coming the next day. How's that for life-long comfort?
The Other Prizes in the Cash4Life Lottery
The second prize in the Cash4Life lottery is absolutely fabulous. Guess all the main numbers in the game and you've got it made! You will get $1,000 every month for the rest of your life. While this is just a miniature version of the $1,000 per day prize, it still comes with lifelong financial support.
There are nine prize tiers in total, including the $1,000 a day first prize. The third prize is worth $2,500 and it goes to players who guess four out of the five main numbers and the Cash Ball number. The lowest tier prizes are worth a symbolic $2, $1, but these are an excellent incentive for players to keep on trying.
The Odds of Winning Cash4Life
The fabulous $1,000 a day, every day first prize in the Cash4Life lottery comes at a 1 in 21,000,000 chance for players, which is absolutely stunning. While these odds remain quite difficult to beat, they are far more achievable than many other lotteries out there.
Just to give you some perspective, the odds of winning the US Powerball stand high at 1 in 287,000,000, which is exponentially more difficult to beat. As such, there is an excellent opportunity with the Cash4Life lottery! Try your luck and you could be one of the next big winners!
When Is the Cash4Life Draw?
Every Monday and Thursday at 9:00 P.M. sharp, New York time, the Cash4Life officials draw five main numbers from 1 to 60 and then a Cash Ball from a separate number barrel which includes numbers from 1 to 4.
The Cash4Life draw is done completely at random, so everybody has a chance to become a winner. Moreover, you have two chances each week to get your hands on the fabulous prizes in the game. Make sure you have your tickets ready before the draw closes and stay tuned to find out the winning numbers!